'Melba' Yellow-tailed black cockatoo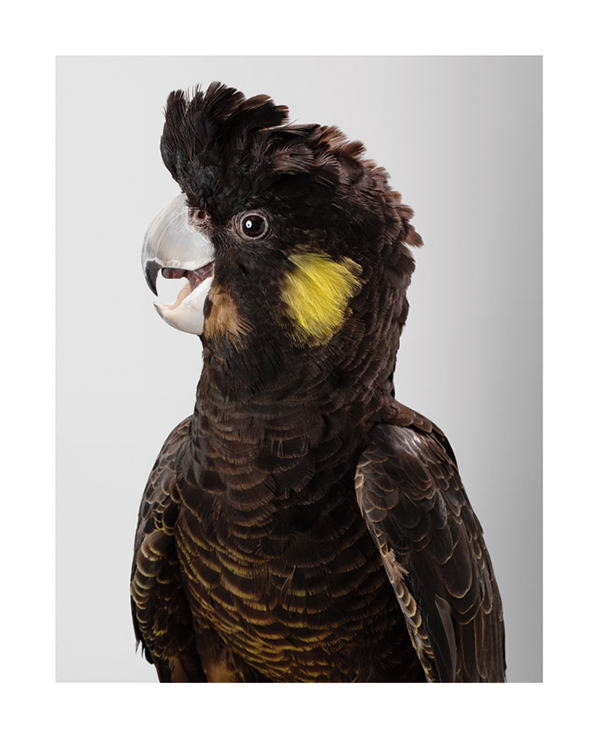 'Melba' Yellow-tailed black cockatoo
©Leila Jeffreys 2012
'Melba' Yellow-tailed black cockatoo 2012 Series: Series: Biloela Wild Cockatoos
Photograph on archival fibre based cotton rag paper
112 x 89 cm

The first time I saw a Yellow-Tailed Black Cockatoo I was driving in Clovelly a beach-side suburb of Sydney on ANZAC Day (memorial for those who have served in the Australian and New Zealand military) with friends. When I spotted this majestic bird sitting on a telephone line, I nearly crashed the car. I swung the car around quickly to get a closer look, the screams of terror in the car were soon silenced when the passengers witnessed what I was looking at. We stood and stared in wonder.
It was just so beautiful and so BIG! I thought it must have been an escaped aviary bird because I had never seen a wild bird that big in the city.
We headed down to the ocean and soon discovered a large flock feeding in the banksia trees. I went home and consulted my well-worn 'Pizzey and Knight's Birds of Australia' and that was the beginning of my love for these incredible critters.
It really is a particularly large cockatoo. Adults can be 65cm (2 feet) in length. If you get the privilege of seeing them fly they will take your breath away. They flap deeply and slowly with distinctly heavy, fluid wingbeats and their loud eerie wailing calls carry for long distances. Melba was hard to photograph because she was just so big. My portable bird studio that I use to photograph Cockatoos was designed for large birds but when Melba came in her head almost touched the ceiling and her tail feathers touched the floor. She was calm and confident, a gentle giant.
As with many Cockatoos, her habitat is being cleared but unlike some that thrive in the new open spaces, she needs trees to nest. That's why she was in Clovelly on ANZAC day where there are trees lining the ocean.