'Nora' Red-tailed black cockatoo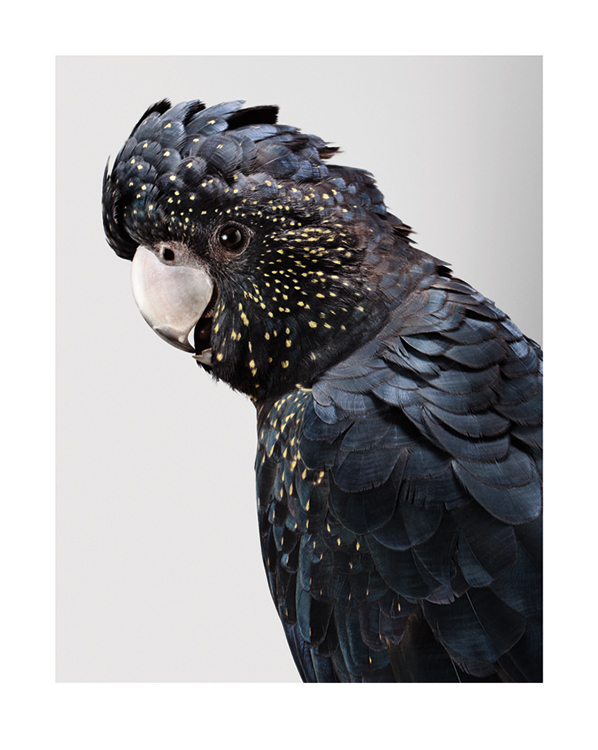 'Nora' Red-tailed black cockatoo
©Leila Jeffreys 2012
'Nora' Red-tailed black cockatoo 2012 Series: Biloela Wild Cockatoos
Photograph on archival fibre based cotton rag paper
112 x 89cm

What I love about working on these projects is the amazing people I get to meet. One is Josh Cook, he's a carer for WIRES (Wildlife Information Rescue and Education Service Inc) who lives in Sydney and is an extraordinary human being. Josh has cared for many red-tailed black cockatoos and other birds in need. When I visited his house the first thing I noticed was the singing of so many birds – every room is filled with patients in care.
Josh goes one step further. His job with his company 'Birdwork' works with owners of birds to teach them a new way of thinking. Many people crave contact with birds but struggle with the idea of caging birds or clipping their wings. Josh teaches that there is a way to share a wonderful life. He teaches birds 'free flight', which essentially means to be like homing pigeons. The idea is that the birds are let out in the morning to spread their wings and fly around the neighbourhood to see their friends, get their exercise and then return home for dinner, a cuddle and to roost at night.
When I met Nora it struck me that she looked like a knight in a suit of armour. Her feathers were so defined they looked like hard metal pieces not soft, light feathers. She was incredibly human in all her expressions and when I came home from the photoshoot I found myself coming back to this image time and time again.