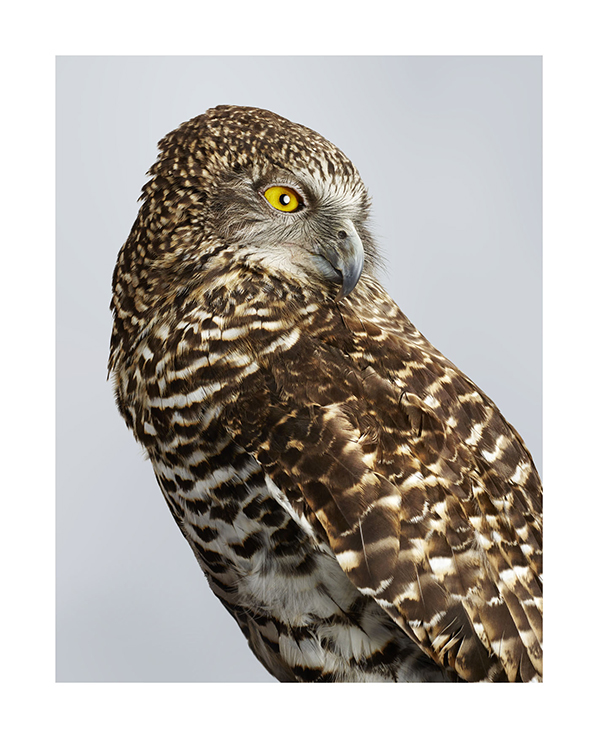 'Harriet' Powerful owl
Photograph on archival fibre based cotton rag paper
112 x 89 cm, 44 x 35 inch (standard)
'Harriet' Powerful owl 2014 ©Leila Jeffreys
The Powerful Owl has been teasing me. When I started this body of work, I knew it was possible I would not be able to photograph all the species of Australian owls as some are so rare. I made my list of the nine species of owls found in Australia and slowly as years passed, each bird received a tick… except for the Powerful Owl.
Then big news broke: for the first time since records began, a Powerful Owl had moved into Centennial Park in Sydney. The importance of this sighting was significant because the bird was not found on Ern Hoskin's bird list – a wonderful man who spent 50 years observing and recording bird species found at Centennial Park.
I went to the park to see if I could find the owl, and there he was high up in a branch, looking down and taunting me. Then, during a birdwatching excursion with my husband, we came across another Powerful Owl at Irrawong Reserve, Pittwater – this one was also low in a branch looking at me. The Powerful Owl in Centennial Park then found a mate; suddenly there were two roosting in the tree staring down at me! Everywhere I looked there were Powerful Owls, but not one being cared for that I could photograph.
At the eleventh hour, a call came through to let me know there was a Powerful Owl in care at Eagle Heritage in Margaret River, WA. My exhibition was only weeks away so I boarded the plane with my equipment in tow, excited about finally seeing this beautiful bird up close.
When I met Harriet, she was extremely shy – so much so that I wasn't sure I'd be able to take her portrait. There was nothing about her that said 'powerful' – more gentle and nervous at all the attention. Phil was wonderful with her, speaking quietly and encouraging her to relax. Eventually I was able to photograph her, but it was a very short session. We didn't want to cause her any undue stress and knew she preferred to be roosting in her tree than being in front of the camera. It was a heartening experience, however – expecting to meet a strong and tough bird only to find a vulnerable, gentle giant.
Powerful owls are giants… they're Australia's largest 'hawk owl' measuring up to 65cm in length.
And finally I've met an owl that actually 'hoots'! It's hard to believe, but the only owl that hoots in Australia is the Powerful Owl. It's a beautiful deep, resonant 'woo woo' or 'woo hoo' and they always give a double hoot. If you ever visit Sydney, it's a must to go and see the owls at Centennial Park. Seeing them is thrilling but hearing them is just as exciting. Being so big, they're not hard to find once you locate the tree they like to roost in.