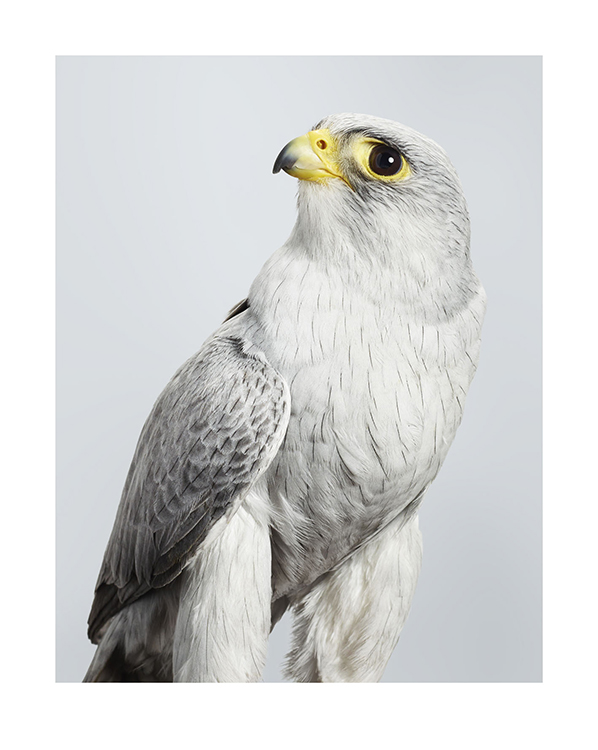 'Ash' Grey falcon
Photograph on archival fibre based cotton rag paper
112 x 89 cm, 44 x 35 inch (standard)
'Ash' Grey falcon 2014 ©Leila Jeffreys
To meet Ash I had to fly all the way to Western Australia. Grey Falcons are rare, and Ash is lucky to be alive. Two wildlife photographers, with a passion for birds, were driving along a dirt road in the remote Kimberley region and saw a flash of white to the side of the road. In case it was an injured bird, they stopped and stumbled upon this beautiful Grey Falcon staring back at them. His left wing was so disfigured that it had to be partially amputated (which can't been seen from my portrait).
Ash is now the only Grey Falcon in captivity in the world. He is lovingly cared for by Phil Pain from Eagle Heritage in Margaret River. Pain lives in hope that if a female comes into care, there maybe an opportunity to breed them and bring the Grey Falcon back from the brink of extinction.
Sean Dooley, editor of Birdlife Australia and author of a brilliantly funny and entertaining book, The Big Twitch, would agree that I am very lucky to have met Ash. Dooley is a hardcore birdwatcher and his book is about a childhood dream to break the Australian twitching record of seeing more than 700 species of birds in 12 months. The dream of becoming a national champion is, in his publisher's words: "both ridiculous and inspiring". Dooley's book is a true story about obsession, seeking a meaningful life and searching for the elusive Grey Falcon.
The Grey Falcon is also known by the beautiful name of the Smoke Hawk. It is not only rare, but it is also classified as a true nomadic species because it never nests in the same location twice, making it incredibly difficult to study. The Red Goshawk is considered Australia's rarest bird of prey but anecdotally, all the wildlife carers I've met think the Grey Falcon is just as rare with estimations of a population of only 1,000 left Australia-wide.
Photographing Ash was incredibly easy, and as Phil pointed out to me the fluffy feathers under his chin, were puffed up — a sign of him being at ease. He was very chatty and spirited but also keen to please. I even got to have my photo taken with him happily sitting on my lap… but don't tell Sean Dooley.